BAND is the best app we have right now to keep everyone (coaches, team members, & parents) on track regarding all the upcoming comps and events.
Install the BAND app & click the invite: https://band.us/n/a9ab24d8r2Vff.
Make sure you have the notifications turned on so you can keep up to date on all the news and any possibly important changes. You can edit your notification preferences in different areas shown below.
When making your profile please include a photo, your first and last name and under "your role" add your Child's name and your relation (i.e "Sally's dad").
To help make sure everyone gets full use out of this app without overusing it, below are tips and guidelines to make this as easy as possible for you.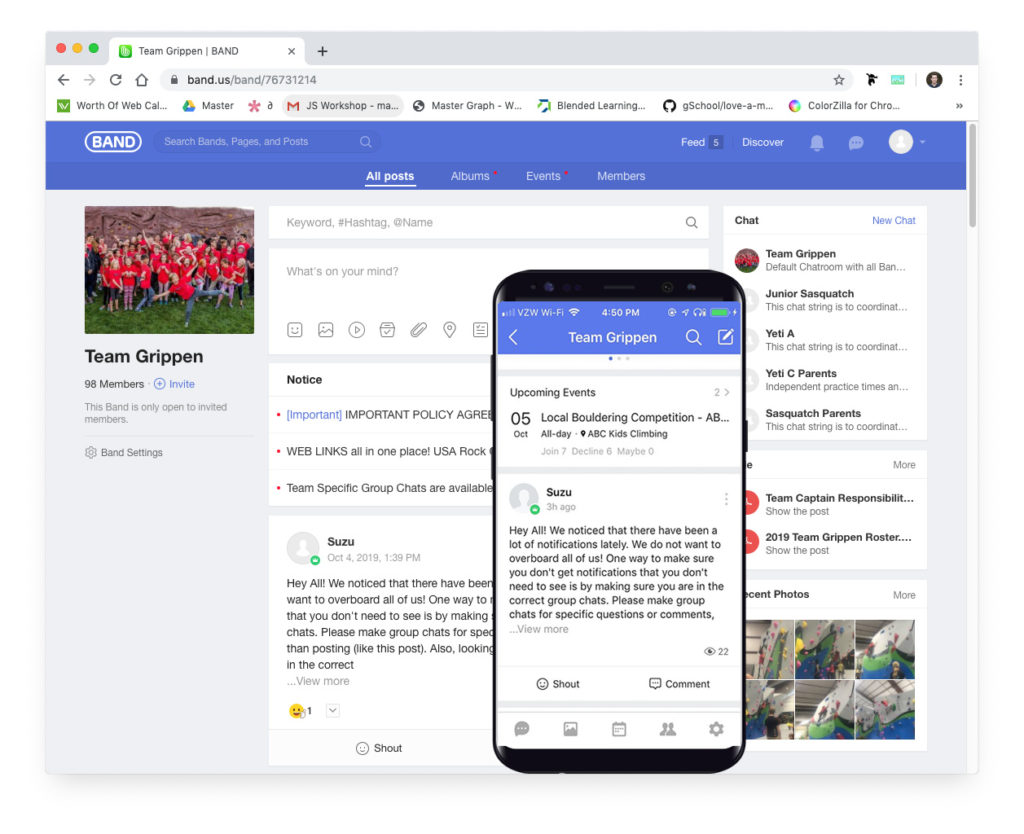 ---
DM / Chat
Use the DM (direct message)/chat feature as much as possible.
If you have questions that not everyone needs to see (which is probably most), please DM myself, Suzu, Mia or Kristen instead of the whole group.
We will do our best to start chats specific to comps that we are not attending so that you all can stay in the loop together. Try to keep conversations about that comp just to that specific chat.
If you RSVP to the event, then we will know you are going and we will add you to that specific chat.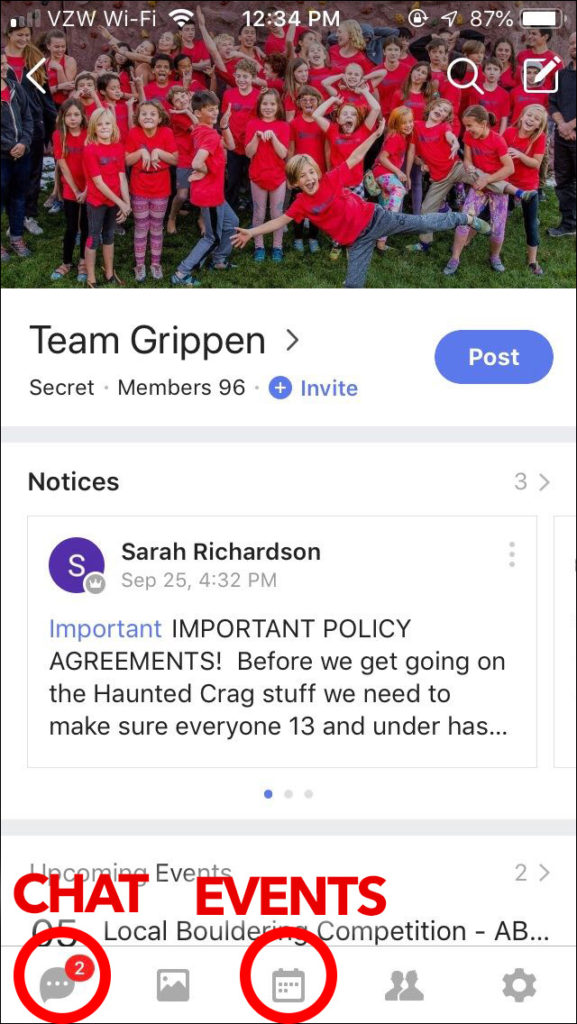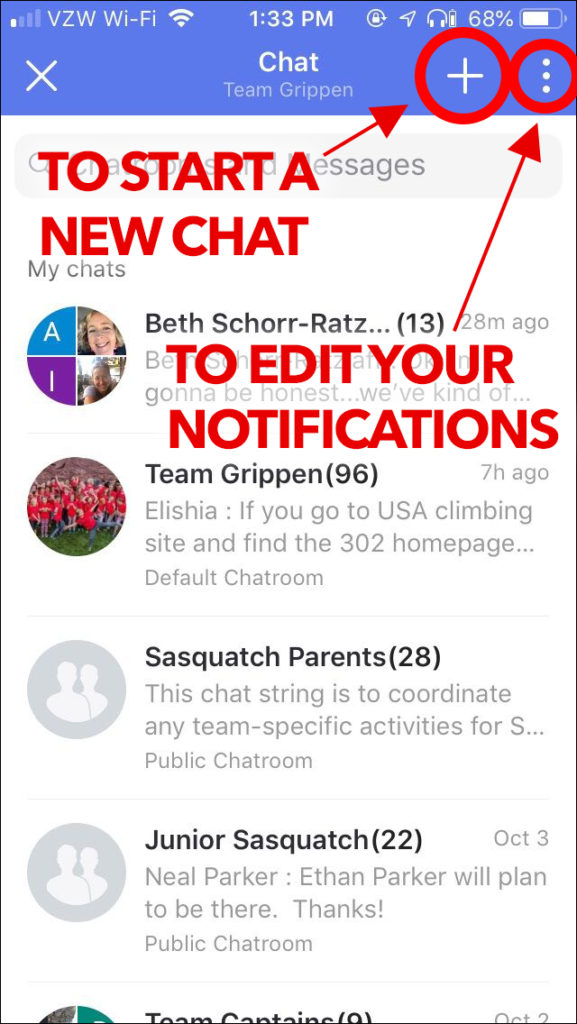 You can manage your notifications for different chats! Some chats can be muted and you check them periodically or keep the notifications on others to see all responses in real time.
If you are in a chat that you do not want to be in any longer or were accidentally put in, you can leave it, with no hard feelings.
You can swipe left on the specific chat to open the options to Mark as Read, Mute, or Leave.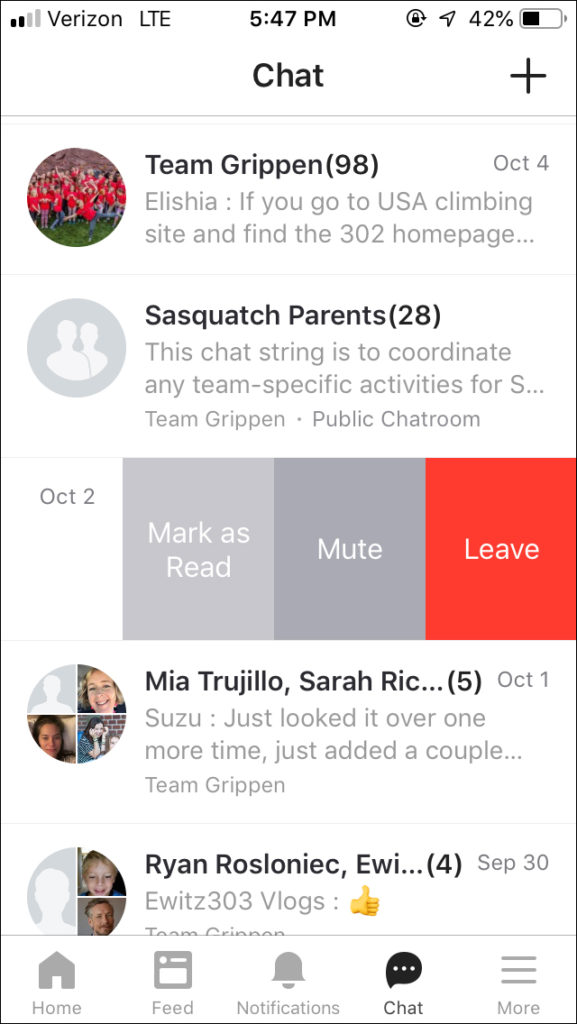 ---
Events
Events have lots of info in them so that you don't have to scroll through your feed of posts. We might make a post that a comp registration is open, but all of the information pertinent to the comp will go to that specific event. That information will be: a map to the location, the waiver link, volunteer sign ups, the competition format and the registration links.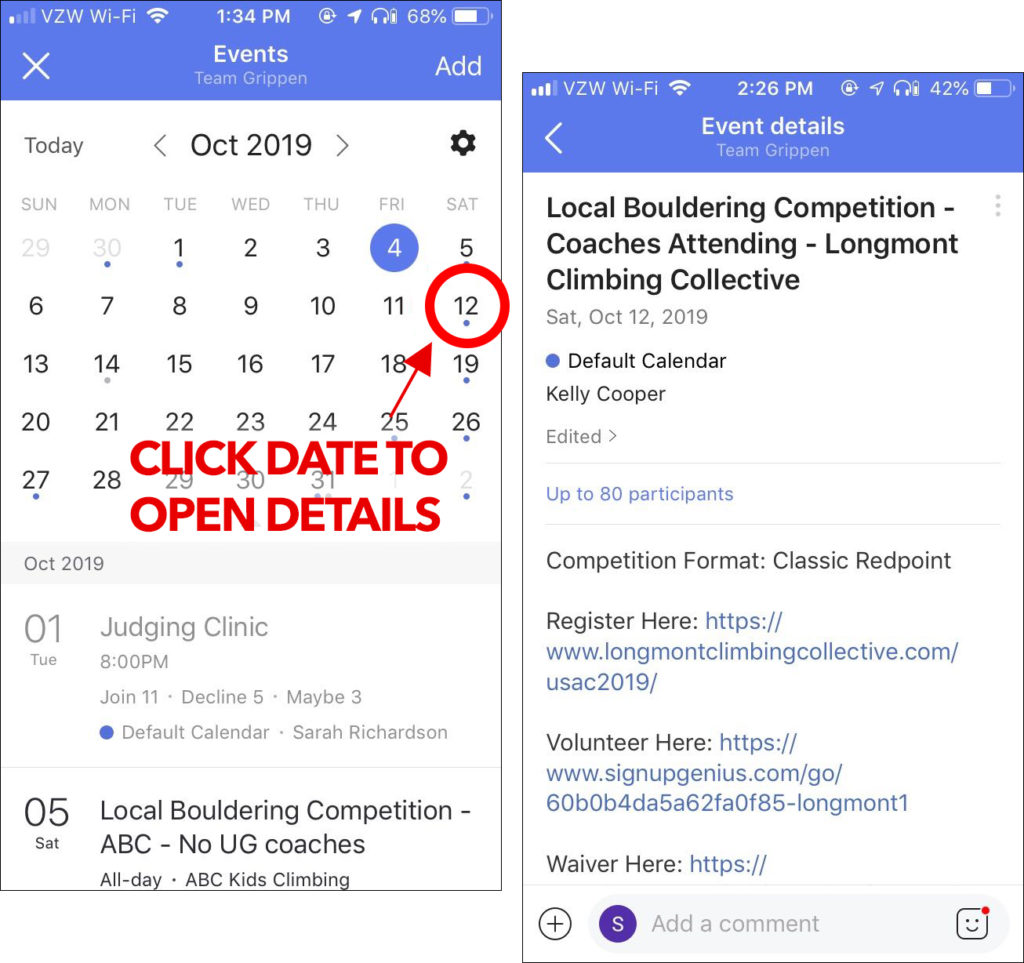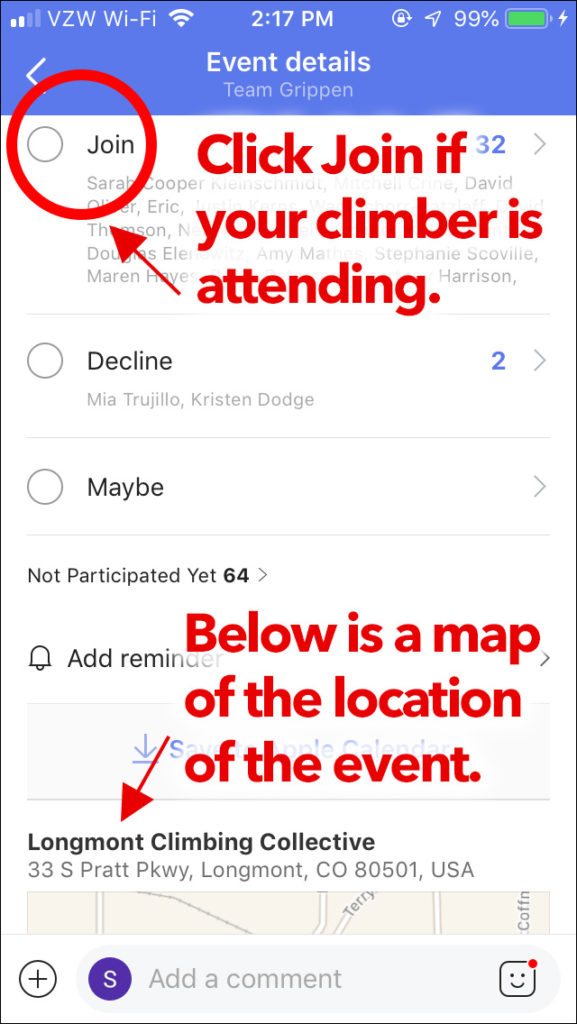 To RSVP to Events
In the specific event you will see RSVP options to Join, Decline, or Maybe. (We care most about the join option)
If we know who is going to competitions, then we can plan ahead and serve the kids better.
---
Comments, Questions, & Acknowledgements
Unless someone specifically asks for a reply to let us know something is completed or that they will be there (again, see the RSVP option), please refrain from responding. For example, if you'd like to let me know that you completed the agreement documents, then you can DM me or give a "shout", otherwise I'm going to assume that it will be done. Yes, it's helpful for me to know, but not everyone needs to receive a notification about that.
In a chat you can acknowledge someone's comment by holding down on that comment and reaction emojis will pop up. This can also be used as a "head count" if it fits the occasion. For instance: "give a thumbs up emoji if you will be attending our get together after practice". This gives the planner a head count they require, and less of a notification frenzy for all others.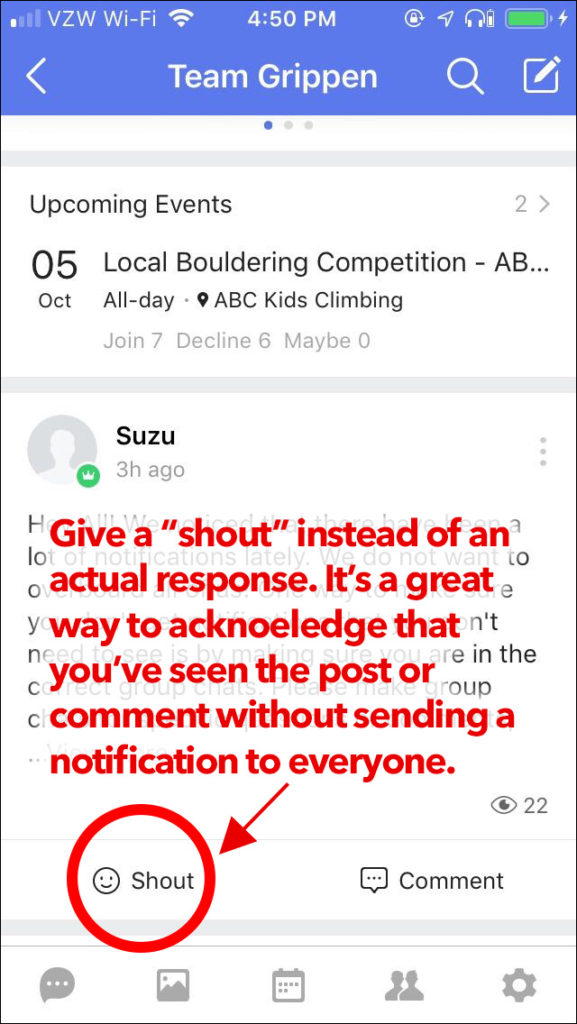 Questions: Please try to use the DM feature when possible. If it turns out that it is something that everyone should see then we will make that comment, edit, change, or whatever needs to be done for all to see.
---
Photographs
If you have any photos from the comp, please add them! It doesn't matter if they aren't edited or perfect.
Kids are psyched to have any climbing photos of them!