Übergrippen is excited to share that we are building a new ground-up, full-service indoor climbing facility in Cedar Park, Texas – a northern suburb in Austin, Texas! If you have made it to our Denver, CO location, then you'll be excited to know that we'll be duplicating all those great aspects of the crag, plus more!
Now, to help answer some of your questions, here are the details we can share at this time:
Q: First, what the heck is a crag?
A: At Übergrippen we have always avoided the "g" word (ahem, gym) in favor of referring to ourselves as an indoor "crag".  We feel that to truly embrace the community aspects of climbing we had to extend your experience beyond just "sending" a route. We start by building in the heart of a residential neighborhood…we are not a gym in a forgotten industrial area, but a crag that you can walk or ride your bike to.  Übergrippen is a place you come to climb, but stay to connect — we welcome our members and guests to come climb, but stay and have dinner. Bring a picnic, some food to grill (we have one that is free to use!), and a cooler of your favorite beverages (you must stop climbing when you decide to enjoy an adult beverage)…let the kids run on the lawn or climb our outdoor boulder as the sun sets.  Practice your skills on our slacklines. Use our picnic tables, relax in a rocking chair. Slow down and enjoy your time with those people that are important to you!
Q: Where in Cedar Park will the crag be located?
A:  Technically, the lot doesn't have an actual address yet, but it will be located in the heart of Cedar Park close to Hwy 1431 and Parmer lane.
Q: Will there be tall climbing routes?
A: Of course! We will be providing climbing on walls with top ropes, lead climbing, and auto belays. 100+ lanes of top rope and lead climbing (over 200+ routes available) with walls up to 55ft tall. Oh, and a speed climbing wall.
Q: Will there be any bouldering?
A: Of course! We have a wonderful bouldering space and will be putting in a Kilter board for those of you that really want to train hard.
Q: Will there be fitness?
A: Of course! We'll have a complete weight room, as well as all of our popular fitness classes to help keep you in shape for climbing, lake season, or even just general health even if you don't climb.
Q: Will there be yoga?
A: Of course! We have a beautiful yoga room that opens to our yard to provide a really unique indoor/outdoor yoga experience.
Q: Will there be an outdoor yard like Denver?
A: Of course! We love being outside as well and will have a large outdoor patio, more climbing, and multiple slacklines.
Q: When is it opening?
A: We're aiming to open our doors mid to late 2021.
Q: How big will it be?
A: We will have over +20,000 sq ft of climbing on the beautiful Vertical Solutions climbing walls.
Q: What kind of things are there for the kids to do?
A: Oh man, ok – we have a lot. From day passes where anyone can get on our tall walls after a short orientation using our auto-belays, to various clubs depending on the child's interest. There are programs for kids as young as 3-years-old from both a social climbing experience to competitive teams. Click here to learn more about what we are currently offering in Denver for kids. We even have a multi-purpose room that makes our facility perfect for birthday parties and events!
Q: What kind of things are for adults/parents?
A: The kids aren't the only ones that get to have fun here. There are plenty of opportunities to help both new and veteran climbers improve their ability. One example is we provide a progressive six-part movement program specifically to help ya'll learn and master various techniques. We also offer outdoor climbing skills classes, technique tidbits, and physical training workshops. Click here to learn more about what we are currently offering in Denver for adults.
Q: What if I'm visiting from Colorado or I get a membership here in Texas and visit Colorado? Can I climb at any of the ÜG locations?
A: Are you kidding? We encourage it! One membership to any facility will allow you full access to any crag in any of our locations. Heck, even a day pass will allow you to climb at all three facilities if you can make it happen!
Q: What are other perks in being a member?
A: We're looking to partner with local businesses of all kinds (breweries, restaurants, fitness studios, climbing gyms etc.) to provide added benefits for our members and the community. More info on perks and community to come!
Q: Will you have any retail for sale?
A: We'll have a full pro-shop with a full line-up of all the gear you need for indoor and outdoor climbing. You'll find a full selection of climbing shoes, carabiners, belay devices, harnesses, ropes, helmets, draws, climbing apparel, climbing guide books, and so much more! We have 40+ styles of climbing shoes – this is a larger selection than REI. And members can even earn a 10% dividend on all our pro-gear that is redeemable for future purchases.
Q: Are you locally owned or is ÜG a chain?
A: Übergrippen is not a chain.ÜG Cedar Park is a joint venture between two local Austin entrepreneurs, Übergrippen founders Jake and Kim Crine and ÜG Castle Rock managing owner Matthew Leach. Katie and Connor Breitbach of Austin have been working diligently to bring a full service climbing experience to the Austin Metroplex for over a year. After making fast friends with the ÜG team in early 2019, we naturally fostered a strong partnership with the shared goal of building a thriving ÜG community in Cedar Park. 
Q: Why open ÜG in Cedar Park?
A: Indoor rock climbing has REALLY evolved in recent years! Gyms used to be built in cheaper warehouse districts and weren't friendly to families.  ÜG is different. We love having large windows and bay doors that open the place up and provide climbing for all ages. We know for a fact this location will be convenient and accessible as it will be right in the backyard of Cedar Park residents!  Once we found this perfect lot, we knew we could duplicate the same amazing experience for the residents of Cedar Park.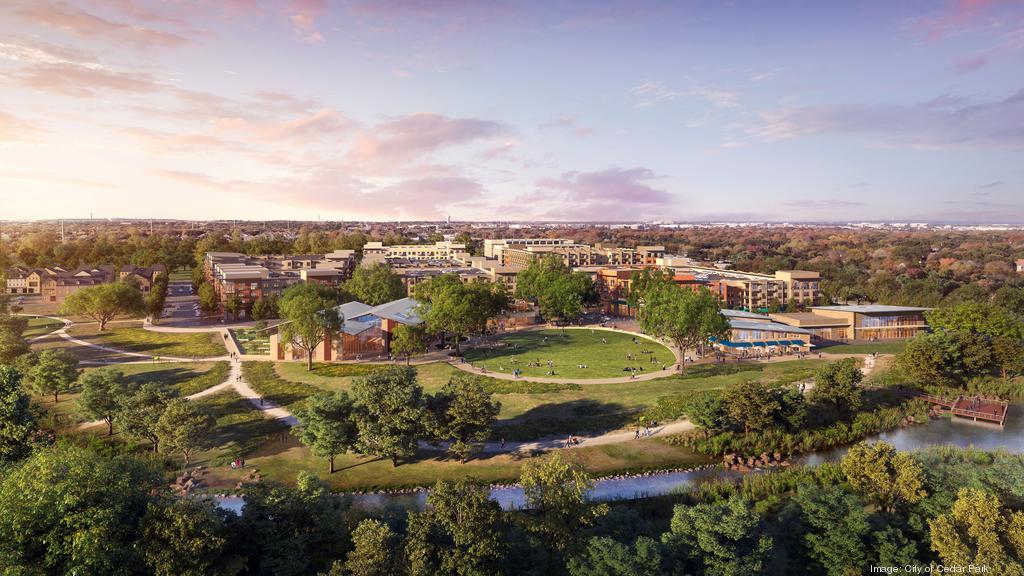 Photo courtesy of bizjournals.com/austin/
Q: So, what's the most important thing to know?
A: We are so excited to be a locally-owned company that will be able to provide our own community a personable staff, amazing hold selection, creative route setting, and an inclusive friendly atmosphere for both kids and adults who are both starting out climbing for their first time to those that are excited for extreme challenges.
Q: Where can I get updates and follow the development?
A: Please sign up with us (plus it would be amazing to know where you are coming from) and follow us on Facebook to receive updates for all our milestones throughout the development, at opening, and beyond that is specific for Cedar Park! We promise not to spam you or share your email with anyone else.