We offer a number of options for scouting organizations (Boy Scouts, Cub Scouts, Girl Scouts, Brownies).  Whether it's the BSA Climbing merit badge (we have a certified merit badge counselor on staff!), a troop team building event, or an overnight camp out or lock in we can take care of you!   Contact us at events@ugclimbing.com for more info on our scout programs!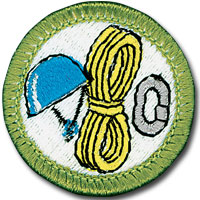 ---
A Note on Youth Participation
All guests under 18 years old must have a waiver completed and signed by their PARENT OR LEGAL GUARDIAN. There are absolutely no substitutions allowed for the parent or legal guardian.
All crag guests ages 12 and under must be either DIRECTLY supervised by an individual that is 15 years or older and has completed a facility orientation and has a signed waiver OR enrolled and participating in a staff supervised activity. Those parents that wish to bring their children under 13 years old to the crag without providing supervision will need to enroll them in one of our numerous youth programs including camps, clubs, after school programs, and climbing teams. Kids 13 years old and older may take our learn to climb classes to learn learn proper use of climbing equipment used at the crag as well as how to belay and climb on top rope. Once a child has completed this course and passed our belay certification, they can climb and belay others at the crag without adult supervision.
All children under 18 belaying MUST USE AN ASSISTED BELAY DEVICE such as an Edelrid Jul, Mammut Smart, or Petzl GriGri.
All children under 18 using Auto-Belays must be Auto-Belay certified AND must complete a buddy check with another Auto-Belay Certified person prior to starting each climb using verbal belay commands ("on belay?", "belays on, climb on").
Children must be 13 years or older to be belay and Auto-Belay Certified.  Children 12 years old and younger may only be belay or auto-belay certified with approval from an Übergrippen Youth Team Coach (usually requires past or current team experience) AND after successfully demonstrating proper belay / auto-belay technique on 3 consecutive visits to the crag (on different days). No child 10 and under is permitted to belay without a certified backup belayer.