Membership & Daily Pricing: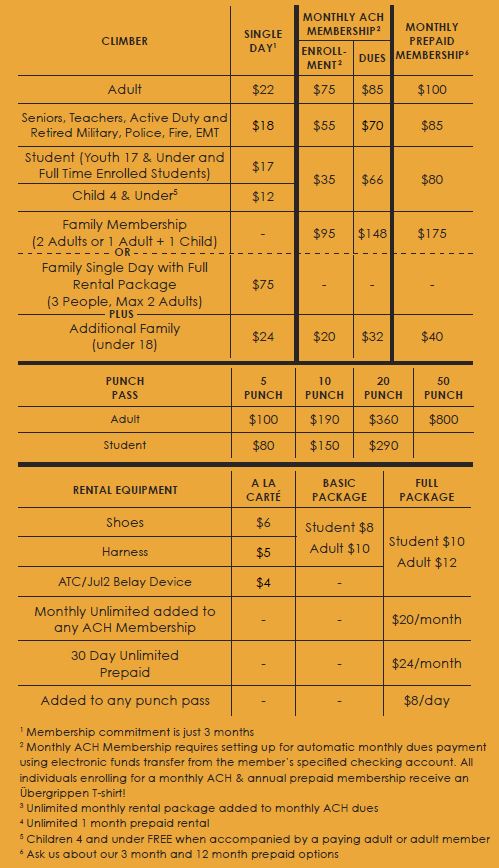 Übergrippen Member benefits include:
"Climb On": Unlimited access to Übergrippen Indoor Climbing Crag (climbing, bouldering, & fitness studio) during normal operational hours
"ÜG Climbing Academy": Want to join, but worried that you don't know how to climb or think your skills are not the best? Don't worry, our members take the "Crag Experience – Introduction to Climbing" class for free (regularly $60 per person), get a 25% discount on all other climbing classes (lead climbing, beginner and intermediate movement), and can attend any of our group clinics for free.
"Gear Junkie": 10% member dividend earned on retail purchases (credit earned monthly and can be applied to future retail purchases)
"Kinder Rock": 10%-25% discounts on youth camps, climbing team, climbing club, parties, parents' night out, and other youth program offerings
"Om": Free access to any mat yoga classes and fitness classes

Limited to space /availability in classes — sign up in advance using our online scheduling tool
Specialty yoga, including classes like Arial Yoga which require additional equipment, may carry an additional fee

"Dibs": Priority enrollment for special events, programs, classes, camps, etc. Generally, enrollment will be open to members 2 weeks before it opens to the public. Access to "MEMBERS ONLY" events.
"It's on me": Get 1 free introductory admission & ½ price gear rental per visit for any guest you bring that has never been to Übergrippen before.
"Rockin' Tots":Kids 4 and under are FREE with an adult member or paying guest.
To receive information on our membership options you can email us at membership@ugclimbing.com.
---
A Note on Youth Participation
All guests under 18 years old must have a waiver completed and signed by their PARENT OR LEGAL GUARDIAN. There are absolutely no substitutions allowed for the parent or legal guardian.
All crag guests under the age of 13 years old must be either DIRECTLY supervised by an individual that is 15 years or older and has completed a facility orientation and has a signed waiver OR enrolled and participating in a staff supervised activity. Those parents that wish to bring their children under 13 years old to the crag without providing supervision will need to enroll them in one of our numerous youth programs including camps, clubs, after school programs, and climbing teams. Kids 13 years old and older may take our learn to climb classes to learn learn proper use of climbing equipment used at the crag as well as how to belay and climb on top rope.
All children under 18 belaying MUST USE AN ASSISTED BELAY DEVICE such as an Edelrid Jul, Mammut Smart, or Petzl GriGri.
All children under 18 using Auto-Belays must be Auto-Belay certified AND must complete a buddy check with another Auto-Belay Certified person prior to starting each climb using verbal belay commands ("on belay?", "belay on, climb on").
Children must be 13 years or older to be belay and Auto-Belay Certified.  Children younger than 13 years old may only be belay or auto-belay certified with approval from an Übergrippen Youth Team Coach (usually requires past or current team experience) AND after successfully demonstrating proper belay technique on 3 consecutive visits to the crag on different days. No child 10 and under is ever permitted to belay without a certified back-up belayer.